Here's the story -
I've been a guitar player since I was twelve years old.
Aside from a long-ago hope to one day play Major League Baseball, a guitar player is the only thing I've ever wanted to be.
My first bands were all-original acts, influenced by the bands I grew up listening to: Soundgarden, Nirvana, Black Flag, Pearl Jam, My Name, Descendents, Pixies, Fugazi, and many others. I started out as a songwriter, largely because I had a hard time figuring out how to play like my heroes, and I was caught up in the punk rock spirit of the time. In truth, while I'm a much better player now, I'm still very much caught up in the ethos of that old punk scene.
After I graduated from high school, I went to Cornish College for the Arts to study Jazz. I learned a lot there, but I was still playing with my band Honest Abe and wasn't nearly as focused on bebop as I needed to have been. I left after a year to focus on performing with my various rock bands.
In 1997, I went back to school, this time Central Washington University, to study classical guitar performance. While there, I continued to write songs and perform. I started playing regularly at a local coffee shop and played two hour sets there every Friday for two years, first as a solo act, then as a duo with my friend Morten Jensen-Hole on upright bass, and finally with a full all-acoustic band called Puptulla. During this time, I also began my teaching career at Talcott's Music in Yakima, WA.
After I graduated in 2001 with my performance degree, I moved to Seattle, began teaching at the Island Music Guild on Bainbridge Island, and continued to perform, both as a solo singer/songwriter and as a classical guitarist. I also played in a band, Queen Jane, with singer/songwriter PA Mathison, until 2007 when I left to play with Star Anna and the Laughing Dogs.
Currently, I'm teaching at the Island Music Guild, playing guitar for golden-voiced singer/songwriter Andrea Peterman, performing with some of Seattle's best musicians in local "supergroup" Strong Suit, and recording as a solo artist under the name quijote. All this in addition to the many other projects I also perform with, including the Angel Band Project, and the experimental improv ensemble, Butts.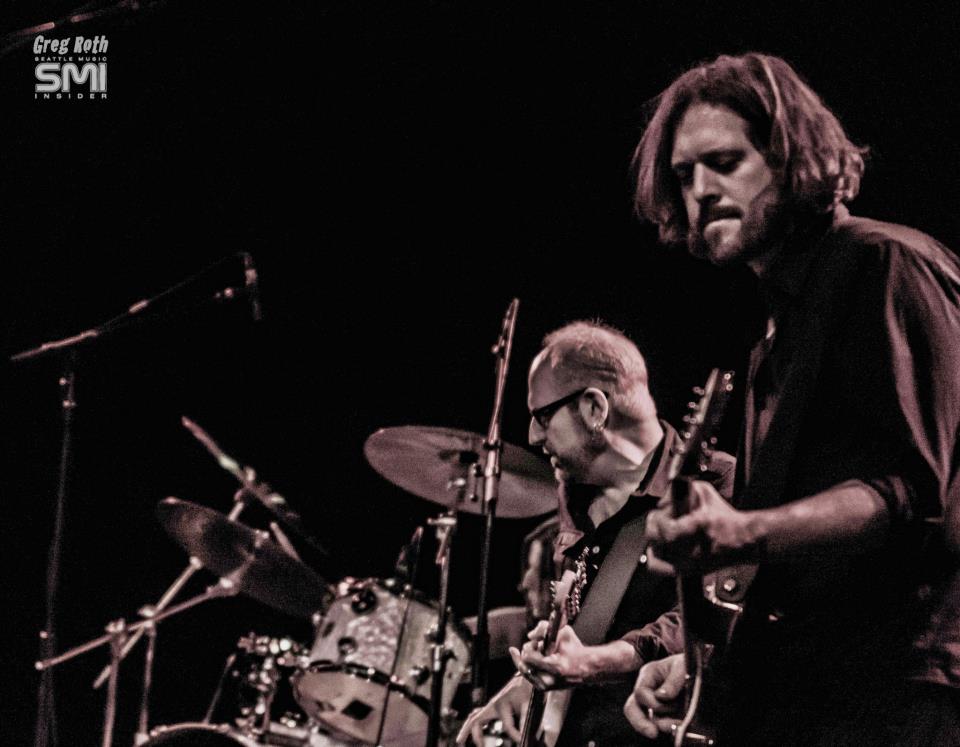 All through my career, I've been fortunate to have incredible experiences and great luck. I've had several amazing opportunities to perform alongside many of my earliest influences and musical heroes- some of the biggest names in rock- including Pearl Jam's Mike McCready, Guns 'N' Roses and Loaded's Duff McKagan, Soundgarden and Pearl Jam drummer Matt Cameron, Pearl Jam and BRAD's Stone Gossard, BRAD and Satchel's Shawn Smith, Santana's drummer Michael Shrieve, Alan White of YES and the Plastic Ono Band,Howard Leese of Heart, Nirvana's Chad Channing, the Seattle Symphony, Blues Traveler's Brendan Hill, along with many more recent favorites like Jeff Angell andBenjamin Anderson of The Missionary Position and The Walking Papers.
Guitar Lessons
Study guitar with Justin S Davis
I love teaching guitar lessons. It is fulfilling, joyful work I've done with success since I first started teaching in 1999. Teaching guitar is a constant reminder that music is a gift. When a student reaches past a previous goal, writes a first song, or their eyes light up with a sudden new understanding, it makes everything feel new again for me too. I feel incredibly grateful to be able to teach and share with my students.
The focus of my teaching is on building connections with music. Technique and music theory, including sight-reading, are important components of my curriculum, but always as a means for learning to be a creative guitarist. Whatever repertoire a student chooses can be, and is, used in the lessons; but not simply so the student can play a song just like the record. Rather, once a student can perform their pieces (anything from Bach to The Beatles and Jimi Hendrix, or from Taylor Swift to Muse and AC/DC), the songs get broken down into their elements so the student can learn to write and improvise; first in the styles of their favorite bands, and eventually with their own unique musical voice.
My professional musical training includes a baccalaureate in Music from Central Washington University for classical guitar performance, a year of study at Cornish College of the Arts in Jazz guitar performance, and private study in flamenco guitar with Miguel Serrano in Salamanca, Spain. But perhaps most importantly, I have learned my craft by doing it, by being out there writing music and performing. My real world experience is often the biggest benefit to students who want to become professional musicians, or who simply want to sound their best when jamming with friends.
I teach guitar lessons at the Island Music Guild on Bainbridge Island.
If you are interested in guitar lessons, please email me at Justin@JustinSDavis.com